Spooky Fest at Tanglewood Preserve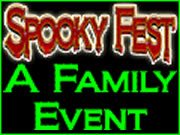 Your help is needed! A group of hikers have not returned from the woods. Will you be able to locate the lost hikers as dark creatures from the cemetery begin to come to life all around you? You'll just have to find out.
Spooky Fest 2012 - A Halloween Family Adventure on Long Island
Latest Reviews
There are no reviews for this listing yet!