Haunted Cannery Spook House & Lunatic Asylum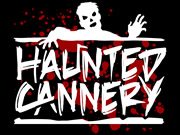 An experience that will haunt you forever! Located at Walter's Pumpkin Patch.

Take the open-air hay wagon through the country darkness past the cornfields...Caution while crossing the low-water bridge, as danger lurks around every turn. Once inside, trek cautiously through the abandoned 4-story grain elevator while the sites and sounds seize your very soul!

All tickets include admission to "The Haunted Hayride", "The Haunted Cannery" and Lunatic Asylum" - 3 haunted events, one location, one price! Victims get aboard either the Haywagon or the "Hell Bound" Ambulance (RIP ticket) for the start of your nightmare adventure traveling down a long, winding, dark.,deserted road crossing over the low water bridge and cautiously heading through the corn and pumpkin fields.

Once inside the Lunatic Asylum maze, patients bang their heads and plead to leave the "hell" that they are in. If you stay in the asylum too long, you actually feel like you're going to go insane.

The Haunted Cannery is the ultimate fun house filled with horrifying music, clowns, chainsaws, zombies, spiders, vampires and anything horrific that comes to mind. In fact, the cannery is everything found in your worst nightmare. Participants who pay extra for RIP admission get to experience the closed lid casket ride at the RIP MORTUARY. That crazy ambulance driver drops you off here first because you look dead to him. Victims take a horrifying close encounter to dying and experiencing the underworld. But you shouldn't worry, if someone does open the locked casket lid and finds you "alive" you will suddenly realize you have bypassed the front of the line and gotten in front of all the other crazies getting into the Lunatic Asylum.
Latest Reviews
There are no reviews for this listing yet!