Terror on 27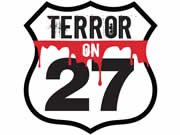 Boy did YOU take a wrong turn...
During the construction of this road, many builders camped on this property. All of the road workers changed in ways nobody can explain. The builders seemed normal, but the more time they spent here the more abnormal they became. At last count, 127 road builders have perished here, natural causes have been ruled out. A few still remain, but are a little different now.

In October, some builders still return to this site to wander. They wander looking for answers to the same simple questions….

WHY US? WHEN WILL IT END?

Insanity:
The original house of terror takes you on the ride of your life. After staggering through the tunnel of delusion, you're met by our deranged bellhop who sends you down to the gates of hell. From there, insanity takes over. Minds are lost, vision is impaired and souls are stolen.

Entanglement:
A twisted path through the darkness of the night takes you down to the depths of our mine shafts, if you can make it out of the waterfall of blood you will be forced to navigate yourself out through the foggy, pitch black hallows.

Animosity:
This is a true maze! You MUST find your own way out while being followed by your worst fears. There is no direct route from beginning to end.


Latest Reviews
There are no reviews for this listing yet!