Haunted Hollow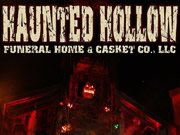 Haunted Hollow
1000 Ben Brown Road
Valley, AL
Review Us
There are places which have experienced such tragedy and horror that they maintain a residual energy of their past events. These places are known to be haunted.

The Hollow along Dixon Creek is such a place. Years of tragedy and untimely deaths have marked these woods with the residual energy of those who have passed and the events surrounding their deaths.

Haunted Hollow now occupies these woods with 3 top rated haunted attractions.

Every October our 3 haunted trails are open for your touring pleasure, but remember, Haunted Hollow is truly haunted, some of the spooks you see, may be real.

Latest Reviews
There are no reviews for this listing yet!