Shawhaven Haunted Farm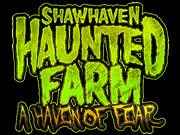 Fear surrounds the Farm. All 140 acres have been lost onto a haze of despair, since the dark years when the crops and animals were lost to a devastating invasion of bugs. Fear had engulfed all the grounds.
Local people have tried to face their fears on the Wagons of Fear. Some exit safely and unchanged only to be lost into the darkness of despair with time. Others try to make the trip through the Dead Maze to the next town only to join the Zombies that linger within the corn.
A new darkness has covered the Farm and it surrounds Samara's Boarding House. It's the last place to try if you're on your way to a new life, it'll be a new life you never expected. People check in but few check out.

Wagons of Fear
Fear over takes many as they pass through the woods. Stories of mad men and the undead have been passed down for years. The darkness of the fields and woods closes in on those that have entered and engulfed their minds, never to release them of the despair they have found or has it found them?

Dead Maze
A Zombie influx is taking over the farm. With the crops infested a new chemical concoction had to be made to save and bring the crops back. Travelers to the township started to come up missing. When the corn started turning red people whispered and stories were passed around. The hired men disappeared each night into the corn field, low faint screams and grinding could be heard till the early morning. That's when the Zombies first started to appear. Now Zombies are wandering in the Dead Maze in search of human prey.

Samara's Boarding House
Only short term boarders were welcome at Samara's Boarding House as they passed through town. No one ever noticed them missing..... The storage room is quite full now with trunks and suit cases that have never reached their destination. Spirits wander and linger in the halls and dark corners of the Boarding House calling out to other travelers to come and check in.

Corn Maze
Enjoy a unique experience in the Corn Maze with its twisting & turning trails. There's nothing scary in this Corn Maze except maybe who you take with you! Flashlight Maze Run starts at dusk so be sure to bring your flashlight or chance getting lost, but don't worry we will find you when we combine the corn.

The Last Ride
The Last Ride is a burial simulator. A special 3D stereo sound track plays in the darkness, built in air rams move the casket in sync with the sound track. Climb inside the casket and there, in total darkness you get the experience of your life, your death. Enjoy your Last Ride to the cemetery and try on for size your final resting plot.
Latest Reviews
There are no reviews for this listing yet!