Nightmare on 9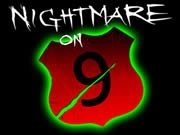 The Snohomish Slaughter & Rendering Plant was built in 1935 by the Thomas brothers, Sam and Dean. It was closed in 1975 when one of the brothers was tragically torn in half by one of the meat grinders. There is still speculation as to whether Sam tripped or was shoved to his gruesome death. What was left of his upper body was never found. Second Season at Snohomish Slaughter House, search is going Strong, enter if you dare.
Nightmare on 9 Haunted House Seattle Haunts (2013)
Latest Reviews
There are no reviews for this listing yet!