The Maze of Terror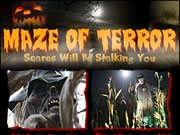 Come join us on a walk, where those that walk no more have come to rest. Through nightmares of the unthinkable hold on to your heart, be aware in the dark, You will never guess what's stalking you around the next row of corn.

Then when you think it can get no worse, step in to the Woods of Fear to make your final reservation for your resting place beside those who have gone before you. See you in …..The Maze of Terror.

We've made big changes at The MAZE OF TERROR. New attractions. New Twists. New Turns. New Scenes.
It's Darker and Scarier than ever before.

Walk through the "SCARE" if you DARE

Graveyards, Terrifying Tunnels, Haunted Bridges, Zombies, Woods of Terror, Haunted Bus Rides and more (but you'll have to come get scared to find out the rest)...You'll be SCARED! You'll be Frightened! You'll be TERRIFIED!

Along the way you'll meet Spiders, Bats, Ghosts, Giant Bugs, Clowns, Inbred Hillbillies, Scarecrows, Axe Wielding Zombies, Murderous Chainsaws and many more nightmares risen to scare YOU witless.
Latest Reviews
There are no reviews for this listing yet!