Hundred Acres Manor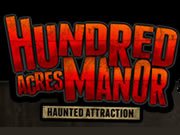 6 HAUNTED ATTRACTIONS - ONE PRICE
Hundred Acres Manor is Pittsburgh's largest and most extreme haunted attraction spanning over 1 mile and ranked as one of the top in the world. You will come face to face with some of the most terrifying zombies, creatures, monsters and products of your worst nightmares. Named one of the best in the nation and world visit Hundred Acres Manor Haunted House this season to see what all the terrifying buzz is about.

"ONE OF AMERICA'S SCARIEST HALLOWEEN ATTRACTIONS" THE TRAVEL CHANNEL

Dead Lift
Board a century old elevator to take you to the depths of the Acres family estate and experience a hellish ride to the bowels of the horror within the manor. The first of its kind in Pittsburgh, Dead Lift will send you whipping around and begging for mercy. Discovered during excavation of the estate; the Dead Lift elevators were originally used to transport guests and staff from the families quarters to the manors deepest secrets hidden within the basement. GOING DOWN?

Damnation
Enter the dilapidated acres family estate and experience the terrifying world of the lost souls buried deep within the manor walls. Traverse the manor room by room and see what makes Hundred Acres Manor Pittsburgh's Best Haunted House. During your journey you will encounter the most grizzly zombies, bloodthirsty minions of the night, and the restless spirits damned to spend eternity confined within the manor compound. Prepare for the most relentless, mind-bending journey through hell on earth.

Torture Tank
Take a tour of Hundred Acre Manor's Torture Tank and try before you buy. Witness what our clients call a truly explorative experience. Clients of torture tank are allowed to select their scenarios, costuming, set designs and are provided with an innocent human. Our contracts are discrete and totally legal as long as you keep your mouth shut!

Vodou
Take a tour through the deep south where the spirits of the bayou beckon you. The Stitchers want your bodies, The Priestess wants your souls and the bodies of the damned look upon you. Do your best to keep your skin in tact as you run from man and beast alike through the Louisiana swamps.

The Maze
Feel the terror begin to overwhelm your body as you attempt to navigate your way through our all NEW 7,500 square foot maze from hell. Which way to go? Choose your direction and choose it wisely, chainsaw wielding maniacs among other undead creatures roam the premises. The maze will leave you in the dark feeling cold and disoriented! Don't bother asking our minions for directions, the only thing they wanna do is hear you scream.

Brine Slaughterhouse
Originally opened as a butcher shop for the families of the estate, this slaughterhouse turned into a processing plant for the whole town. Enter the bowels of The Brine Slaughterhouse and witness the unspeakable horrors that await. Your turn of this turn of the century slaughterhouse will unveil torture, gore and more. But beware; legend has it that Mr. Brine still walks the halls of this now-abandoned meat processing plant, with an insatiable appetite for human flesh.
September
Su
M
Tu
W
Th
F
Sa
1
2
3
4
5
6
7
8
9
10
11
12
13
14
15
16
17
18
19
20
21
22
23
24
25
26
27
28
29
30
October
Su
M
Tu
W
Th
F
Sa
1
2
3
4
5
6
7
8
9
10
11
12
13
14
15
16
17
18
19
20
21
22
23
24
25
26
27
28
29
30
31
November
Su
M
Tu
W
Th
F
Sa
1
2
3
4
5
6
7
8
9
10
11
12
13
14
15
16
17
18
19
20
21
22
23
24
25
26
27
28
29
30
Hundred Acres Manor 2013 | Travel Channel | America's Scariest Halloween Attractions 4
Latest Reviews
There are no reviews for this listing yet!