Psycho Ward & Nightmares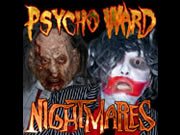 West Michigan's Largest Haunted Attraction with three great attractions: Psycho Wards, Nightmares and Clown Chaos.

Psycho Wards:
Floyd's Reckoning is a brand new terrifying journey through the dark and forbidding passages of Psycho Ward. Floyd Cranston's new realm is a horrifying world where his twisted clan of sick misfits are roaming a wasteland and the normal rules of civilized society no longer exist. Everything that dares enter is prey. Floyd's Reckoning is an experience you won't soon forget — Assuming you make it out Alive!

Nightmares:
Nightmares serves up its inevitable bedlam and bloodletting in The Cleansing. It is a horrifying experience that you won't soon forget!!! Keep your wits about you, watch your back, and you might just avoid the grisly fate of those who don't. The warped minds that infest Nightmares want nothing more than to dispatch you in the most painful ways imaginable!

Clown Chaos:
Clown Chaos Firing Range is your opportunity to exact some revenge on those creepy jokers by lighting them up at West Michigan's best paintball shooting gallery. Clown Chaos is an ultraviolet glow-in-the-dark experience that might just ease those nightmares about the clown that lived under your bed when you were nine. It's time to show those clowns who the real bozo is!
Psychoward Haunted House Commerial
Latest Reviews
There are no reviews for this listing yet!