Hall of Horrors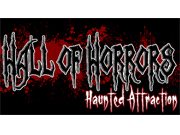 The evil masterminds behind Brentwood Behavorial's Xperiement13 are gearing up to bring another exciting season of screams in 2016. This October, the Hall of Horrors presents the sequel to the x-crutiatingly sinister Xperiment13. Like nothing you've ever experienced, you'll venture through the halls of pure hospitHELL! You'll run from blood-thirsty, needle-wielding doctors, as well as their seriously afflicted patients, and if you can escape with your life, you'll be one of the lucky ones...


All proceeds from the event benefit numerous local and statewide charities, including SC Jaycee Camp Hope, a camp designed for mentally challenged children and adults. Camp Hope is located on Lake Hartwell in upstate South Carolina. Other charities that the CWC Jaycees contribute to include Relay For Life, Children's Chance, ALS Association, Leukemia & Lymphoma Society, Support Our Troops, Hidden Wounds, the Wounded Warrior Project, the FealGood Foundation, SisterCare, Families Helping Families, and Harvest Hope.
Latest Reviews
There are no reviews for this listing yet!