Ghost Town Halloween Haunt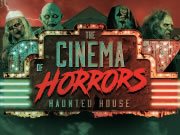 Ghost Town:
Take a terrifying trip through the old haunted west! Along your journey you'll visit the town sheriff, eerie cemetery, saloon, haunted mineshaft and more.. Make your way through live western shootouts and the gallows, if you're lucky you may make it out of town without getting shot!

FarmHouse:
Portland's new and most intense and notorious fear experiences. You will be touched, restrained, and blindfolded. You will be tormented, challenged, and scared out of your mind.

You MUST be 18 years or older to enter this attraction, and willing to sign our waiver. No exceptions. No refunds given to anyone under 18 who attempts to enters or purchase tickets online.

Wicked Hollows:
Maybe Jack wasn't responsible, it's a band of witches, led by the figure named Mother Maria. The group was around for centuries, collecting numerous souls, using mass murders and plagues to cover their ghoulish activities, searching for their next specimen for their ritual/sacrifice. In their home of the cemetery of Highgate, they would turn their dead victims in soulless zombies, sometimes dismember their victims, using bones for their rituals. Discovery as you attend a funeral of one of the Jack the Ripper victims at Highgate. Be careful cause this curse is REAL!
Latest Reviews
There are no reviews for this listing yet!