Dead Whispers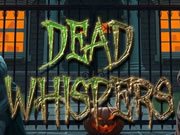 "Dead Whispers", has been one of Virginia's most talked about Haunted Houses. With live actors to make you believe you're in a Horror Movie & many detailed haunted rooms, It is the most creative and scary haunted Attraction with Ghosts and Creatures at every corner including singing pumpkins.

DinoTyme Production's award winning creators of this amazing attraction teaming up with Caroline Community Theatre once again have earned the reputation as developing the most incredible and scariest haunted houses on the East Coast. Just wait til you experience the "Haunted Movie Theater"... ever see a horror movie? Well, you'll get a taste of these kinds of movies inside our walls... NOT the gory ones... just the scary ones... be on your guard because you don't know what's around the next dark corner. Floating Ghosts who like to torment, roaming monsters that are lost along the way eager to find you and quite a few new characters added this year to really highten your haunted experience. take yourself back to your childhood and experience the "Doll Room", one of the freakiest rooms we will also have for 2016! Remember, "DON'T FEED THE FEARS!"

All Proceeds to benefit the new & up-coming Institute For the Performing Arts in Virginia. In 2016 don't visit just any haunted house, come to DEAD WHISPERS located this year at the Village at the Spotsylvania Towne Centre behind the Mall….
Latest Reviews
There are no reviews for this listing yet!