ZombiegroundZ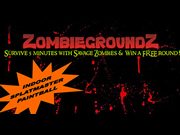 Armed Humans will be sent into a black lit arena in groups of 15 to search and annihilate 7 live unarmed zombies.
Your goal is to keep your wits and survive five minutes in this spooky arena without being tagged. Careful, every time a zombies gets hit and falls, they will be able to navigate through the arena chasing you a little faster. You only have 10 shots! Use them wisely!
*Humans are provided with a face mask, Splatmaster shotgun, and 10 shots of ammo.
Latest Reviews
There are no reviews for this listing yet!