Alton Haunted Trolley Tours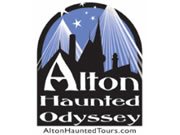 Alton's haunted odyssey began in 1992 when Marlene Lewis and local psychic Antoinette created a stir with the areas first haunted tour. Tours sold out quickly as people clamored for a chance to experience a ghost.

Now, 22 years later, the odyssey continues. When Antoinette retired in November 2012, Marlene and long-time tour guide Gary Hawkins decided to continue their haunted journey, along with tour guide and friend David McCracken.
Latest Reviews
There are no reviews for this listing yet!