3rd Street Asylum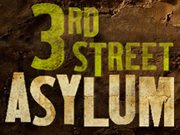 3rd Street Asylum
3rd and Cedar Streets
Bonner Springs, KS
Review Us
The 3rd Street Asylum was originally constructed in 1918. The Hoffine family of Bonner Springs financed construction in order to provide care for an ailing family member who had succumbed to a violent madness. By 1925 the asylum was housing the most dangerous and violent of the criminally insane for the entire midwestern region.

The most famous resident of 3rd Street Asylum was Bob Barber, the Butcher of Bonner Springs. Barber was sent to the asylum in 1962 after a gory murder spree with an axe, killing 16 people in his tenant building, including his own wife and 2 small children. Even after a double lobotomy, Barber's behavior remained uncontrollable.

After brutally killing a guard and 2 other inmates. Barber was kept in constant isolation, where he developed a talent for killing and eating rats with only the use of his mouth.

Barber tragically killed a teenage babysitter and a 22-month old toddler during his famous escape from the asylum in 1982. Cited for inhumane living conditions and treatment methods, as well as out-dated security systems, the 3rd Street Asylum permanently closed in 1983, shortly after Barber's daring escape and subsequent disappearance.
Latest Reviews
There are no reviews for this listing yet!